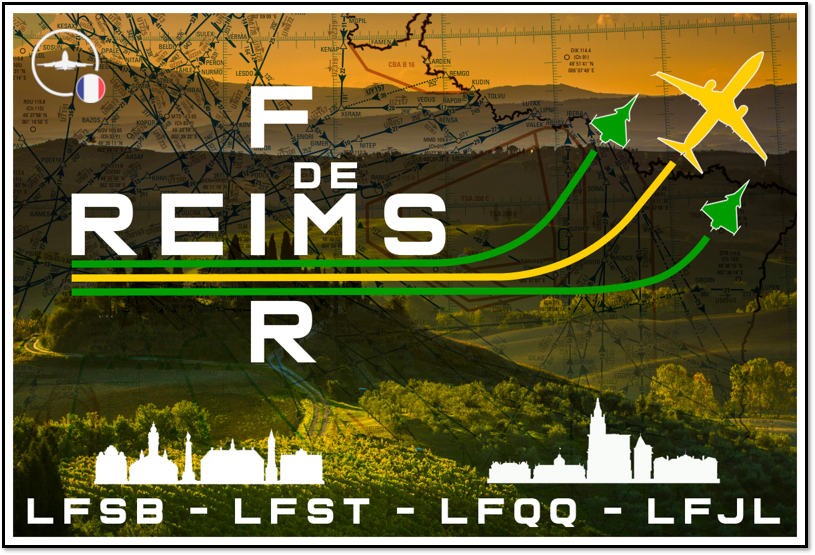 Welcome on the Reims FIR section
You will find here all the needed information for opening ATC positions and flying in the North-East area of France. The Reims FIR team is here to provide you with a pleasant and quality experience.
---
The FIR is divided in 3 SIVs : the Basel SIV, the Strasbourg SIV and the Lille SIV with platforms such as Metz-Nancy-Lorraine LFJL, Strasbourg-Entzheim LFST, l'EuroAirport Bâle-Mulhouse-Freibourg LFSB, Dole-Tavaux LFGJ, Dijon-Bourgogne-Longvic LFSD, Lille-Lesquin LFQQ, Le Touquet LFAT and many other civils, military and helipads to discover.
You will thus find your pleasure in the VFR or IFR, by visiting beautiful lakes or by flying over our mountains. Don't hesitate to stop for a drink !
---
To help the new controllers, ATC School trainings are available at Basel, Strasbourg and Lille.
Very good playing to you ;)
Calendar
12:00 UTC

February 4, 2023

Flying your fighter jet, or eyes on the radar screens, join us on Saturday 4th February 2023, between 12:00UTC and 15:00UTC, to train intercepting and interrogatinf targeted aircraft during our scramble alert exercise!




We kindly remind you that you must be registered on the IVAO Special Operation member list in order to take part in this event.









FIR chiefs and animators
---
The email addresses of the animators are hidden since your are not logged in. In order to see them, please log in.
| Role | IVAO ID (VID) | Mail |
| --- | --- | --- |
| Animator - Basel sector | 664358 | Hidden |
| Lille Sector - Animator | 656556 | Hidden |
| Lorraine Sector animator | 644626 | Hidden |
| Strasbourg Sector Animator | 599972 | Hidden |