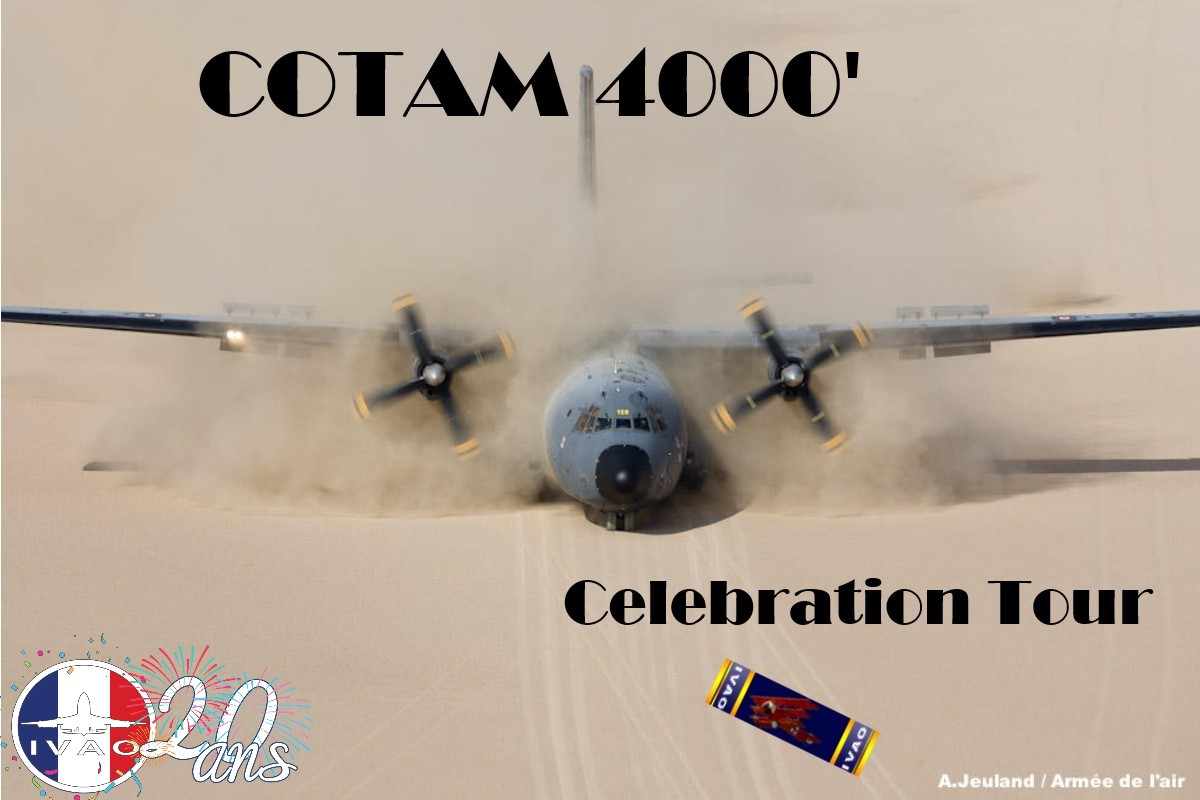 The C160 Transall mythical plane of the French Air Force is going through its last moments before being withdrawn from operational service.
This tour will take you on the famous COTAM 4000 line. Since joining the Air Force fleet in 1970, the Transall has flown all over the world.More particularly in Africa where he participated in all operations until 2013. He will now give way to the newly arrived C130J in the ranks of the Air Force.
At the controls of your most beautiful Transall or other turboprop, come say goodbye to this old iron bird.
Everything you need is either in the rules or in the detail of each step.
Opening date and time
05/04/2021 07:00 UTC
Closing date and time
31/07/2021 23:00 UTC
Total distance
7557 NM
Rules
Rules :
• This tour is reserved for French military aircraft (C160, C130, A400, or equivalent)
• Turbojet arcraft are not alowed on this tour (A330, A310).
• All legs must be carried out on IVAO network with real weather.
• Flights must be performed in real time (sim rate x1 only - sim rate above x1 is strictly forbidden).
• The presence of an ATC is not necessary. However, any driver taking a flight in an area covered by an ATC must contact by TS/text.
• If presence ATC, adhere to the instructions.
• Follow the published route for the steps involved.
• Meet the published departure and arrival procedures, made must be reported in the leg report .
• Use a corresponding plane to the type of flight requested for each step.
• Use a military callsign as CTM or FAF.
• You must disconnect after each completed leg.
• To be connected a minimum of 5 minutes before take off and stay connected a minimum of 5 minutes after landing, for the correct record tracker.
Flight Plan :
• Correct check for the type of military flight (M).
• Have a correct flight plan.
File :
For legs 1 and 11, a *.zip file (Archive) containing:
• 1 File *.pln road FS9/FSX
• 1 File *.fms road XPLANE
• 1 File *.pln road MFS.
En route maps:
For any question contact SO departement: fr-soc@ivao.aero fr-soac@ivao.aero
List of legs